Hardball Questions: Kent Williams (Part Two)
by Robert Dudek
August 11, 2004

The conclusion of Robert's conversation with Kent Williams, founder of Batter's Box.

Having gone from a limited readership to several thousand hits a day. Do you think there is any momentum left for the site?

I'm not sure, but we seem to have grown in quantum leaps before. We went from one guy blogging to two guys blogging to suddenly having dozens, then hundreds of readers and now it's up to thousands. But each of these steps has been unexpected, so I really don't know what kind of event might change it. Someone may decide they want to sponsor it, maybe make it a membership site and turn it into a profit center somehow. That's not in my plans, nor in the management team's plans. We're just content to go in whatever direction it takes us. But the possibility exists that there is one more evolutionary step. I just don't know what it might be.

Batter's Box does an unequaled job of assembling information about the Blue Jays, especially when it comes to coverage of the minor league system. What are some of the things you'd like to see Batter's Box do in the future?

I would like to see that expand to where we do more baseball that isn't unnecessarily Blue Jays stuff. Considering that we are all volunteers with jobs and lives, it's not likely to happen overnight. Our readership seems to favor the Blue Jays-related articles to more generic stuff, but I hope that can evolve. We say we have a Canadian perspective on baseball, so I regret that we don't have more of an Expos fan base and more Expos discussions. That's part of Canadian baseball too. The amateur scene, especially with the Olympics coming up, is another thing that I would hope would interest our readership. But you never know what's going to catch on and what there's going to be more demand for.

At the beginning of this season there was an ambitious project to preview each major league team. How would you assess the success or failure of that?

Everybody worked on those, some people did one, some did two, and all 30 of them were very entertaining reads and very informative. I hope that's something we do again next year. It's an example of how we can't be all things to all 30 teams all year around, with the limited resources we have. There is another project in the hopper for next winter that would take a detailed look at certain individuals: nine guys who for one reason or another are noteworthy - and not necessarily Blue Jays. There are many great stories out there and we have many talented authors. I should mention that not all of us are from Toronto and not all of us are even Jays fans - there is quite a mix in the authorship and everyone has free rein. I'd welcome it if they took us towards broader coverage of the whole baseball scene.

What started as a one-man blog intended to keep Kent's writing sharp has evidently veered off into unforeseen directions. Among the most important breakthroughs Batter's Box made was the cultivation of a relationship with the Blue Jays organization. A growing number of Blue Jays players, minor leaguers and coaches have been the subjects of interviews. Many members of the "traditional" media have also agreed to "step into the Box". How on earth did that happen?

Keith Law was our first contact. At a memorable lunch after we'd only been operating for two or three months, Craig Burley, Jordan (Furlong) and I sat down with Keith for the first time. A couple of hours flew by like minutes as we got to know him. Subsequently, I contacted the communications department, where there was a surprisingly warm reception. For a fan site to be granted media credentials - I'm very grateful to Will Hill and Jay Stenhouse for inviting me into the press box.

Press credentials mean more than sitting in the press box watching a ballgame with writers and other media personnel. Pre-game field level access, and pre- and post-game clubhouse access is a part of it as well. Kent was able to earn the respect of the other writers and develop a rapport with some of the players. He recalls his first day as a member of the working media:

I can't even remember who they were playing - it's all a blur. It was in June 2003. I was overwhelmed - I was the new guy, uncertain about my credentials and whether or not I fit in there. The best part was being down on the field before the game that close to batting practice and being able to talk to the players. I was awestruck by the way the players and coaches went about their work. Sitting up in the press box, I was trying to take notes and write about that rookie experience. When Josh Phelps hit a homer, I punched the air and was immediately admonished by Mike Shaw (the information director) who reminded me that that sort of thing was forbidden. To my surprise, after a few innings it all seemed pretty normal, but it wasn't until my second or third visit that I felt I belonged up there.

Major league press credentials have helped Batter's Box gain access to minor league players and coaches. Kent, Gerry McDonald and I went on a road trip to Erie, Pennsylvania to cover the New Hampshire Fisher Cats (the Blue Jays' AA farm club). After talking to Fisher Cats' manager Mike Basso, we arranged several player interviews for the next day. In due course we met Mike Murphy, the radio voice of the Fisher Cats.

Mike invited me to come up to the booth to talk a little bit about Batter's Box, and I was very happy to promote the site. I wasn't intimidated about being on the air because I'd called so many horse races over the years. That part of it was just going to be fun. To my surprise, Mike and I hit it off and I wound up sitting in as a color man for six innings. There's a job I'd take in a heartbeat if it was ever offered. Until then, it's just a very pleasant memory.




Kent Williams interviewing Jays rookie Dave Bush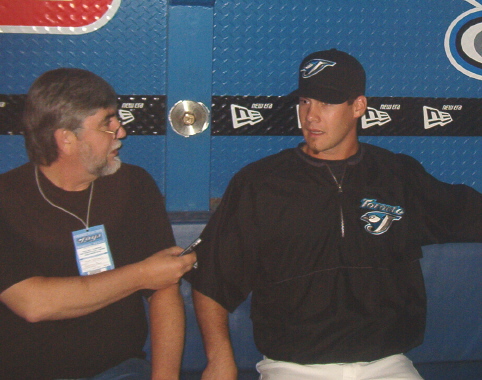 What advice can you offer bloggers seeking access to big league teams?

First, establish some credibility. Your opinions should be reasonable and you should show up every day with more opinions. Until you've put in that groundwork, there isn't really much you can do. If you contact a team and say, "I'd like to start a blog about your team, can I have a press pass?", you're not likely to make any headway. So you have to do it because you love it first, then after you've been doing it for long enough the team may take notice. If you're as lucky as we've been - the team will respect what you're doing and open the door to you.

It certainly helps that the Blue Jays are among the most open and progressive organizations in baseball. They are among a handful of teams that use statistical analysis extensively. Perhaps in time, most organizations will be like the Blue Jays. Until then, bloggers focusing on certain teams will have a very difficult time making any headway with front offices.

What are the 5 best things about Batter's Box?

The friendships that I've made is number one. I cannot count how many people I've met, some many times, others a couple of times. Discovering that entire world has been the best part by far.

The daily dialog. To check in and see what some of these friends are saying today, what kind of mood they're in, what zaniness is on their minds. It makes sitting down at the computer a pleasure because you never know what you're going to find.

The relationship with the team. I count some of them in that first group of friends I never expected to make. It's a kind of validation that what we've started here has been accepted at that level. Being invited into J.P. Ricciardi's private bunker during a game for an exclusive interview was totally unexpected.

The fact that the site can function without me is of great satisfaction to me. In the middle of a season, a couple of days away from baseball is a long time. To be able to go to my own site and find what I've missed has been very rewarding.

Kent pauses in search of the right words ...

Finally, there is this anticipation and wonder about what comes next. It's another good reason to get up in the morning.

The thought may occur to the reader that Batter's Box is all about arcane discussions that go into minute detail (and there are plenty of those), but there's another side. There are discussions of music and politics and other silliness (pictures of cuttlefish, kittens and muppets are given out as prizes for guessing the song lyrics of the day). What is the founder's take on all that?

The people who read our site and post are somewhat silly and I don't claim to be deadly serious myself at the best of times. That's part of its charm - we can be having a really serious debate about baseball in one thread and another thread can be very light-hearted. There've been some really warm and touching moments too. One of our readers recently had his wife pass away and shared that on the site: he was devastated. There was sorrow there and messages of support. Another of our authors became a parent last week, so there was an outpouring of joy and celebration.

It's a family. We haven't all met each other - it'd be a heck of a family reunion if we did.

Robert Dudek is also a Batter's Box author and can be contacted via e-mail.