December 13, 2013
THT Essentials:

And here's the full roster.
Get It Now!
The tenth Hardball Times Annual is now available. It's got 300 pages of articles, commentary and even a crossword puzzle. You can buy the Annual at Amazon, for your Kindle or on our own page (which helps us the most financially). However you buy it, enjoy!


Or you can search by:

THT E-book
Third Base: The Crossroads is THT's e-book, available for $3.99 from the Kindle store. The good news is that anyone can read a Kindle book, even on a PC. So enjoy the best from THT in a new format.

our CafePress store. We've got baseball caps, t-shirts, coffee mugs and even wall clocks with the classy THT logo prominently displayed. Also, check out the THT Bookstore. Please support your favorite baseball site by purchasing something today.




All content on this site (including text, graphs, and any other original works), unless otherwise noted, is licensed under a Creative Commons License.

Wednesday, March 17, 2010

Everybody loves pizza. It's delicious. It's relatively inexpensive. It's ubiquitous. And it's even portable. How many times have you sat there debating what to eat for lunch, weighing far-ranging and even exotic options, only to conclude that you aren't particularly enamored with any of those options and settle on eating pizza? When I don't know what to eat, I eat pizza. When, I don't know what to wear, I rock a grey tee and Air Max 95 neons, and when I don't know what to listen to, I bump "Illmatic."

So, what does this have to do with fantasy baseball and the current draft season? Well, I have a theory that stipulates elite closers are the pizza of picks 50–100 in a fantasy draft. In the mock draft that prompted my "Making a Mockery" column, I sat with the 72nd and 73rd picks in the draft. My corners were fully open and I was in need of power, so I was happy to spend one of those picks on Lance Berkman. As for the second pick, I really wasn't thrilled with any of the options. I already had two elite starters (my experiment) and a stud middle infield duo. The elite 3Bs were off the board, and I was stuck in a tier of outfielders where there were plentiful similar options remaining. So, I opted for pizza and drafted Joe Nathan. (This was obviously prior to his injury news.) I had no regrets. This wasn't the only time I've experienced this decision-making pattern.

As is the case with quarterbacks in fantasy football leagues, experienced managers are often reluctant to draft a closer at a price that reflects his true value, rank-wise. Many who dispense fantasy advice preach that we should wait on closers, I have my own strategy though.

I don't usually like to start the run on elite closers, but if my pick comes in the midst of that run, I'm probably picking the best available closer unless there's a player remaining from the past round who I had been targeting all along.

Some may contend that such a move is not a good one, that it is reactive and not proactive. But I beg to differ, because not getting shut out of the top tier closer market is an important part of my strategy. You might say I'm a fan of the stars and scrubs approach to drafting closers.

Mariano Rivera is pizza; what's not to like about Mo? He posts miniscule rate stats, racks up saves in bunches and strikes out more than a batter per inning. Those who preach waiting on closers may underestimate the value elite closers bring as stabilizers of rate stats. Or, they may underestimate what a Fernando Rodney can do to help wreck them.

For the sake of simplicity, I'm going to divide the closer crop into four categories, or tiers. You have elite options, options with either good skills or high upside coupled with job security, options who are fairly reliable in terms of job security but are statistically mediocre, and high risks. The borders of the tiers get a bit squishy, and there are always guys in the second group with the potential to join the first group, just as there are always guys at the back of the third group with the potential to join the last group. Last year, Jonathan Broxton and Heath Bell were in group two, but it was clear to many an astute observer they had strong potential to join group one.

My strategy is usually to get one guy from group one; it doesn't much matter who. Then, I want to get another guy from group two who I think can join group one. This year, perhaps Rafael Soriano. Then, I wait. I'll dip into the closer pool again before the last few rounds only if it seems clear that one of the options remaining is substantially better than everybody else. Otherwise, I just try to grab group three players and possibly the more attractive risky players after, say, pick 200. At that point it becomes a numbers game, throw some of these players at the wall and see who sticks. You can't expect 30 saves from mediocre performers or players with only tenuous grasps on the closer role, so sometimes it takes drafting two of these players to safely assume one competent closer.

I do try to hold a greater share of the closers than my fair proportion. In a 12-team league, I want at least three. Mathematically, a 12-team league would dictate that if six teams have three closers each, the other six will only have two. This means I'm pretty much in the top half of the pack. If I made wise choices, I'll be in the top half of the top half, so I'll be sitting on about nine points. If I find a waiver wire gem, I'm nearly guaranteed the 11 or 12, or I have a spare part to trade and improve elsewhere.

Stolen bases and saves are the two easiest categories to dominate from the draft because there's such a scarcity of players who contribute significantly. The catch, of course, is that many of these players are "specialists," and so you have to be cognizant of not running up deficiencies in the other categories that prohibit you from competing across the board.

But, that's why elite closers really are valuable—they are not specialists. They are studs on a per inning basis. If you had Heath Bell and Jonathan Broxton last year, in addition to the 78 combined saves, you would have also gotten 13 wins, 223 Ks, a 2.66 ERA, and 1.04 WHIP over 145.2 innings. On a per inning basis, this would have been the best starting pitcher in the league! Broxton and Bell could have been had past pick 100 last year. Wouldn't you have traded, say, a ninth- and 12th-round pick for a starter with those stats?

The moral here is that, as with a speedster devoid of power, you have to consider how a closer's non-save stats affect your team. It may be helpful to think of your relief corps as a unit. One of my goals when assembling my relief corps is that, independent of wins, I want my relievers' aggregate stats to represent the best starting pitcher on my staff. Having that one elite closer at the top is the linchpin to achieving that goal.

Most owners will reach for a closer at some point in the draft, and this owner is much more comfortable reaching for Mariano Rivera at pick 60 than I would be reaching for Bobby Jenks 50 picks later.

At the end of the day, what do you sacrifice by eating pizza? You forego more exotic options that may turn out to be wonderful. To be sure, there will be plenty of players selected at similar points to the top closers who will go on to have amazing seasons, perhaps even cracking the top 25. At the same time, you may be adopting less risk. Mariano Rivera's only risk is injury; the chance of him stinking up the joint is virtually non-existent. Compare the risk of a player like Mariano Rivera with that of Josh Hamilton or Adam Jones. Pizza is good. Pizza is reliable. And pizza is a staple of a well-balanced, healthy diet—metaphorically speaking, at least.
---
Posted by
Derek Ambrosino
at
5:02am
(10)
Comments
Thursday, March 18, 2010
Anyone who's had some basic economics, or even just basic cultural exposure to the ideas therein, knows about supply and demand. The gains from bringing it to your fantasy baseball strategy are apparent. The supply of pitchers goes up relative to the demand—well, that means that pitchers' prices (aka their values) go down. Well, perhaps. You must be careful with what it is that is actually being demanded and supplied. As always, if you're not fastidious, economics can take with one hand what it can give with the other.
Take the following example that came up as I wrote about my home league: In my league, we have holds as a scoring stat. So middle relievers are valuable and there are fewer starting pitchers that end up on starting rosters. What should holds do to the value of starting pitchers?
At first blush the answer is: Holds reduce the demand for starting pitching but don't change the supply, so the price (value) of starters should go down. So, the value of
Tim Lincecum
in my league, according to this theory, would be lower than his value in standard leagues. This approach is almost certainly wrong. Why?
First of all, as noted in the comments to last week's article, it is correct to say that the stats of a replacement starting pitcher go up. With holds, the last undrafted started may be
Derek Lowe
, rather than
Ryan Rowland-Smith
.
But in the land of the one-eyed, the two-eyed man is king. What you buy in rotisserie leagues (as opposed to, maybe, points leagues) are better stats, not absolute stats. You don't care if you win by one home run or 20. In the same respect, if everyone has better starters, then the only way to get value out of your starting pitching is to have the best. The price for Lincecum should probably stay about the same or perhaps even go up. What the addition of holds does is skew the value distribution: Guys like Rowland-Smith give negative value now, and Lowe gives zero (since he's replacement level), but Lincecum is worth around the same. You can blow your entire starting pitcher budget on fewer pitchers now—so even if the budget is lower (since you have to spend some on setup men), you have fewer pitchers that you need to spend it on.
Now there is a slight caveat here: To the extent that you can get stats from different positions, there will be a decrease in the high-end starters' price. If those holds guys really could help you in WHIP or strikeouts, then the value of a high-strikeout starter would be a bit lower. But this is second-order compared to the two-eyed-man effect.
However, when it comes to batters, the preeminence of the two-eyed-man effect is not necessarily true. Different positions can heavily cross-contribute—mostly you expect contributions (or hope for them) in most batting stats from most positions. Maybe you hope for a bit more power from your first baseman and more speed from your shortstop. But in general, an increase in demand at one position will affect the price of another position.
Again, though, one must be careful. Certain fantasy analysts at behemoth Sports Network have claimed that speed shouldn't be valued this season because you can basically throw a dart and hit a speed demon in the outfield. Let's just assume that there is actually a higher supply of stolen-base threats this year versus past years. Does this mean that you shouldn't try any more for
Michael Bourn
because there are many marginal speed guys this year? Well, if everyone is getting 20 stolen bases from the center field spot, everything else equal, I want 40 from mine. Sure, 19 is useless to me—that's the skew working—but I still think 40 is pretty valuable; wasting two starting roster spots on two 20-steal guys is not the way I want to go, if possible.
---
Posted by
Jonathan Halket
at
6:30am
(8)
Comments
Ryan Westmoreland
underwent successful brain surgery on Tuesday. I wish him and his family the best during this horrific ordeal.
This week I'm rolling out 2010 outlooks and future stat projections for the top 15 corner infield prospects in baseball.
I was met with an interesting question in my inbox this week, presumably from a
Brandon Allen
fan, and it fits this week's thoughts perfectly: What separates
Lars Anderson
at No. 34 on my top 100 list from Brandon Allen at No. 83?
It's a question that deserves an answer, as simple as it may be. At this point their projected numbers look similar, but it's the upside of Anderson that has him ranked almost 50 slots higher. Anderson has the tools to put my current prognostication to shame, while Brandon Allen seems locked into his projections. Anderson needs to prove himself fast, however, or he will be right where Allen is by this time next year. Or possibly lower.
------------
Justin Smoak
/ 1B / Texas
2010 thoughts:
Chris Davis
and
Vladimir Guerrero
hold down the first base and designated hitter spots, meaning there is a chance that Smoak spends the entire year in Triple-A Oklahoma City. I say he gets a permanent call-up in August or September, however.
Average-year projection:
.304 / .397 / 26 HR / 36 2B / 1 3B / 96 RBI / 85 R / 88 BB / 112 SO / 2 SB / 1 CS
Prime-year projection:
.324 / .424 / 31 HR / 38 2B / 2 3B / 110 RBI / 99 R / 96 BB / 103 SO / 3 SB / 1 CS
Pedro Alvarez
/ 3B/1B / Pittsburgh
2010 thoughts:
Alvarez should move quickly through Double-A Altoona and Triple-A Indianapolis, meaning a July call-up seems to be the best bet.
Logan Morrison
/ 1B / Florida
2010 Thoughts:
Morrison is competing against
Gaby Sanchez
for the everyday first base job out of spring training. While I expect Florida to send Morrison down to Triple-A for a couple more months, I don't expect much from Sanchez. Expect Morrison in the majors full time in June.
Average-year projection:
.301 / .394 / 23 HR / 39 2B / 1 3B / 92 RBI / 83 R / 90 BB / 106 SO / 2 SB / 1 CS
Prime-year projection:
.317 / .410 / 27 HR / 41 2B / 2 3B / 104 RBI / 94 R / 96 BB / 100 SO / 3 SB / 1 CS
Mike Moustakas
/ 3B / Kansas City
2010 thoughts:
Moustakas will take the Double-A plunge. Expect the swim to last all of 2010.
Chris Carter
/ 1B / Oakland
2010 thoughts:
Carter has
Daric Barton
and
Jack Cust
in front of him at the major league level, and Oakland isn't an organization that rushes prospects before they're ready. I expect him to spend the year at Triple-A Sacramento, with perhaps a September call-up.
Average-year projection:
.268 / .354 / 28 HR / 38 2B / 1 3B / 97 RBI / 81 R / 77 BB / 139 SO / 4 SB / 2 CS
Prime-year projection:
.278 / .373 / 34 HR / 39 2B / 2 3B / 111 RBI / 91 R / 85 BB / 132 SO / 5 SB / 3 CS
Brett Wallace
/ 1B/3B / Toronto
2010 thoughts:
Wallace should spend most of the year in Triple-A Las Vegas, but Lyle Overbay and Randy Ruiz won't stand in his way. Expect a permanent call-up in August.
Average-year projection:
.282 / .351 / 22 HR / 33 2B / 1 3B / 88 RBI / 83 R / 64 BB / 121 SO / 1 SB / 1 CS
Prime-year projection:
.291 / .366 / 26 HR / 35 2B / 2 3B / 98 RBI / 91 R / 72 BB / 113 SO / 2 SB / 1 CS
Lars Anderson
/ 1B / Boston
2010 thoughts:
Expect Anderson to split the season between Double-A and Triple-A.
Average-year projection:
.270 / .355 / 22 HR / 36 2B / 1 3B / 87 RBI / 77 R / 76 BB / 135 SO / 2 SB / 2 CS
Prime-year projection:
.281 / .370 / 27 HR / 38 2B / 2 3B / 98 RBI / 86 R / 83 BB / 125 SO / 3 SB / 2 CS
Freddie Freeman
/ 1B / Atlanta
2010 thoughts:
Freeman should spend most of the year at Double-A Mississippi, and he seems to be a lock for some Triple-A time, too. He could even get a taste of the majors, but I wouldn't count on anything more than a September call-up.
Lonnie Chisenhall
/ 3B / Cleveland
2010 thoughts:
Expect Double-A Akron to be Chisenhall's home for the entire year.
Eric Hosmer
/ 1B / Kansas City
2010 thoughts:
Hosmer should start the year back at Advanced-A Wilmington, with his first Double-A test coming around July.
Yonder Alonso
/ 1B / Cincinnati
2010 thoughts:
A combination of Double-A and Triple-A time will prepare Alonso well for a September call-up.
Brandon Allen
/ 1B / Arizona
2010 thoughts:
Adam LaRoche will be difficult to bump from first base, meaning Allen won't see much of the majors. Perhaps some August/September work will be needed.
Average-year projection:
.267 / .345 / 21 HR / 29 2B / 1 3B / 79 RBI / 70 R / 66 BB / 122 SO / 2 SB / 1 CS
Prime-year projection:
.277 / .360 / 25 HR / 32 2B / 2 3B / 87 RBI / 77 R / 72 BB / 115 SO / 3 SB / 2 CS
Alex Liddi
/ 3B / Seattle
2010 thoughts:
We'll see what Liddi is really made of as he takes his game to the Double-A level. Expect a full season there.
Ike Davis
/ 1B / NY Mets
2010 thoughts:
At an uncertain position,
Daniel Murphy
seems like he will get the initial shot at first base for the Mets. Davis will be waiting patiently at Triple-A, where he could spend most of the year. Trying to find a middle ground, expect a full-time debut for Davis in August or September.
Average-year projection:
.270 / .352 / 19 HR / 31 2B / 1 3B / 76 RBI / 69 R / 70 BB / 129 SO / 1 SB / 1 CS
Prime-year projection:
.279 / .364 / 24 HR / 33 2B / 2 3B / 85 RBI / 76 R / 77 BB / 120 SO / 2 SB / 1 CS
James Darnell
/ 3B / San Diego
2010 thoughts:
Darnell should spend a great portion of the year at San Antonio facing off against Double-A pitching.
---
Posted by
Matt Hagen
at
6:10am
(5)
Comments
Friday, March 19, 2010
Derrek Lee
| Chicago | 1B
2009 Final Stats
: .306/.393/.579
2010 THTF Projected Stats
: .286/.365/.486
Cubs fans and fantasy owners who were ready to write off Lee after his .291/.361/.462 in 2008 got a rude (or pleasant) awakening with Lee's 2009 production. He had the second-highest HR total in his career and drove in a career-best 111, hitting triple digits in that department for just the second time ever and the first time since 2005. The 149-point OPS rise can be partly explained by a return to health, since he had back and neck problems throughout 2008; this idea is reinforced by the .189/.253/.284 line that Lee put up in the first month of the 2009 season. He could have been just shaking off rust or the lingering effects of those bulging disc issues, or it could just be a 33-year-old starting to feel the spring chill in his bones.
Whatever the cause, Lee rebounded from that slow start to hit .325/.415/.627 the rest of the way, to the delight of fantasy owners. Cubs fans might have noticed, if not for the antics of
Milton Bradley
, the slump of
Alfonso Soriano
, and
Aramis Ramirez
's dislocated shoulder. It's an encouraging sign that the Cubs' first baseman has returned to form. Or has he?
Really, there's not a ton of luck involved in Lee's 2009 numbers. His .327 BABIP was actually lower than 2008's .330, and consistent with his career .323 average. He saw a spike in HR rate between 2008-09, converting flies to longballs at a 17.9% rate last year as compared to 11.7% in 2008. But since 2008 was a career low and his career average is 17.0%, 2009 was more a return to form than a lucky spike.
One significant difference in 2009 was his approach at the plate, as he reversed a four-year trend toward grounders to lift a career-high 45.7% fly balls. Since some of those came at the cost of line drives—his 19.2% was second-worst in his career—it could indicate that he was just getting under the ball more than hitting it square. But a spike in HR and FB rate tends to produce outsize power numbers, which certainly happened to Lee in 2009.
If this is an ongoing trend, it should mean he'll continue to produce HRs at a greater rate than before, perhaps necessitating a slide into the cleanup spot (this makes even more sense if Ramirez continues his slide in SLG). It could also hurt his BA, something that's been bolstered in the past three seasons by a contact rate around 80%. His neck and back issues are also further concerns as he ages, since these problems tend to be nagging and can sap the strength of a power hitter.
The projections from THTF see this affecting him rather seriously, with a dropoff to 23 HRs and 89 RBIs. I think that's a bit too pessimistic, particularly in SLG, but most systems agree a correction is likely. This will moderate his value heading into 2010, but with good health, he should be back to more productive ways. Don't expect 2005 again—ever—but more seasons where his OPS tickles .900 would be welcome, and would cement him into the middle of second-tier 1B.
Johan Santana
| New York | SP
2009 Final Stats
: 7.9 K/9, 3.2 K/BB, 3.13 ERA
2010 THTF Projected Stats
: 8.0 K/9, 3.1 K/BB, 3.75 ERA
The final straw in the Mets' miserable 2009 came when they learned their ace was being shut down for the season due to elbow problems. Though Santana had a decent year, it wasn't up to his usual standards, and was a downer after a bounceback 2008. But his secondary stats looked solid, and showed slight, if any, regression. His strikeout rate slipped by .03 K/9 and his walk rate rose by .06 BB/9, but neither of those are particularly worrisome.
His uptick in HR rate, from 0.9 to 1.1 HR/9, on the other hand, seems small, but it points to one troubling trend in Santana's 2009: his hit trajectories. His 0.75 GB/FB was his lowest in six seasons, coming from a career-worst 47.5 FB%. That's why his HR/9 rate rose even though his HR/FB rate dipped a tad from 2008-09; if his 8.5% HR rate in 2009 rises to more expected levels, and his FB rate stays high, his ERA is definitely going to rise. And those strikeout and walk numbers might be of less concern if it weren't for the overall trend in both areas—his walk and strikeout rates have both regressed steadily in the past three seasons, and his WHIP has also risen alongside them, a trend that goes back six seasons.
This all may be because he's losing his stuff. Fangraphs' pitch tools show that Santana's fastball has been losing velocity since 2006, though that may have actually led to better movement on it, as he's also become more effective with it. The bigger problem comes from his slider, a pitch that's gone from way above league average (2.26 wSL/C) in 2006 to well below it (-0.88 wSL/C) in 2009. The slider (like any breaking pitch) is tough on the elbow, so cleaning the bone chips out could help the life return to his slider. But whether it's this or age-related regression (Santana's only 30), it's definitely cause for concern.
You see that caution reflected in the THTF projections, which are higher than other systems (CHONE likes him even less, while
Bill James
sees a huge turnaround) but seem reasonable, given the slippage outlined above. Keeper owners have to be gnashing their teeth that he's fallen so far, but there is some reason for hope. The surgery could lead him to the Jamesian turnaround you can find elsewhere, and he's looked healthy and occasionally dominant in the little Spring Training action he's seen. And the Mets, who finished dead last in the NL in UZR/150, should be improved in that department in 2010, helping reduce Santana's BABIP, which rose 9 points from 2008-9.
The fact remains, however, that Santana is no longer the top-flight starter he once was. Don't pay for the name on draft day, and keep in mind that others will. He'll bring you strikeouts and his ERA should be at least decent, if not better than THT sees. But this isn't the Twins' Johan Santana by any stretch, and keeper leagues in particularly should take notice of that.
Brad Hawpe
| Colorado | OF
2009 Final Stats
: .285/.384/.519
2010 THTF Projected Stats
: .266/.365/.480
Hawpe's final line for 2009 doesn't look too bad, but his fantasy owners know how frustrating last season was for them. Through the first half of the season, Hawpe was producing at an awesome .320/.396/.577 rate, headed for a 30-HR, 100+ RBI season. And then, after the All-Star break hit, Hawpe couldn't—he managed just a .240/.370/.442 line the second half of the season, even finding himself dropped to seventh in the batting order and getting yanked from the lineup down the stretch.
Luck can explain a bit of the slide—his BABIP dropped 24 points in the second half—but his impatience took its toll, too. His contact rate was already slipping in June, down to 71% from 83% in May, before his production started to follow suit. In fact, from June onward, his contact rate was an awful 66%, and his walk rate fell from 15% to 12%, too. He's never been a particularly savvy or selective hitter, as his career 0.57 BB/K average shows, but 2009 saw him post his lowest ratio (0.54) since 2005, his first real season in the bigs.
The other area of regression was in his hit trajectories, as he hit more ground balls than he had since 2005, never a good sign for a guy with power and marginal speed. He still maintained his normal FB/HR rates, but that was applied over fewer fly balls, hence his lowest AB/HR rate since 2006. His GB/FB rate has been creeping up since 2007, so this could be a taste of things to come.
One area that did follow career patterns was his platoon splits. Fellow southpaws have always been his Achilles heel; he averages an OPS 152 points lower against them. In 2008, he narrowed that gap to just 71 points, his best rate since that same 2005 season, a year that doesn't really count, since he was in a platoon. 2008, as it turned out, was also an outlier, as he returned to career norms with a vengeance in 2009, displaying a 180-point OPS differential. That's what got him pulled out of the lineup so often toward the end of the season, and leads many to believe he's headed towards a permanent platoon. If he hasn't figured out lefties in 568 PAs, he's unlikely ever to do so.
Rumors surrounding a Hawpe trade have come and gone, and GM Dan O'Dowd has knocked them down, but their very persistence suggests at least a grain of truth. The Rockies have tons of OF talent right now, and holding onto a guy who can only play there effectively 60-70% of the time clearly isn't worth it.
Seth Smith
is the odd man out in the OF rotation in 2010, but he could easily leap into RF if Hawpe looks like he did in the second half of 2009.
Hawpe's in the final year of his deal and, depending on how you feel about these things, it could motivate him to new heights of productivity. But THTF isn't buying it, and neither am I. Though the projection may be a bit low compared to other projection systems, I'd expect a Hawpe closer to the second half of 2010 than the first. If he starts out hot and you own him, I'd look for a trade partner, because the production won't last. He's always been streaky, registering .900+ OPS in April, June and August, while posting OPS in the .780-.860 range in other months.
While the validity of monthly splits are subject to debate (I'd add the investment-advertisement caveat here of past performance not indicating future earnings), Hawpe definitely runs hot and cold. If another owner drops him, you can wait for the hot streak to pick him up off the wire, but he shouldn't play full-time on your team, any more than he should in Colorado. Bid accordingly in your draft and, if you already own him, look for a replacement for those inevitable cold spells.
Clayton Kershaw
| Los Angeles | SP
2009 Final Stats
: 9.7 K/9, 2.0 K/BB, 2.79 ERA
2010 THTF Projected Stats
: 9.6 K/9, 2.1 K/BB, 3.23 ERA
At the other end of the age spectrum from Johan Santana is Kershaw, one of the most promising young arms in the game. Not many pitchers end up with a 4.08 FIP in their first year in the majors—at age 20. Kershaw built on that to the 2009 season you see above, when his FIP fell to an awesome 3.08 on the strength of those peripherals. Only missing a few weeks with a bruised shoulder (sustained while shagging flies, proof that even practice can be dangerous in baseball) put a blemish on an otherwise excellent season. Heading into Spring Training, it now seems that Kershaw is the ace of the staff, accorded the honor of starting Opening Day, as it appears the Dodgers will do.
Digging underneath that breakout 2009 season, we can see reasons to moderate any overly lofty expectations for him, however. As is often true with young power pitchers, Kershaw had trouble with walks, and his 4.8 BB/9 rose slightly from that 2008 debut. He also benefited from a .274 BABIP and 6.8 HR/FB%, although the latter can probably be explained by Chavez Ravine, where he only gave up one longball in 88.1 IP (Coors Field, on the other hand, saw him surrender 4 in 17.0 IP). His rise in FB% makes this a statistic worth watching, as he went from a 37.6% FB rate in the minors to 41.6% in 2009. He's so young that it's hard to determine tendencies like this, but it is something to keep an eye on. He also got support from an elevated 77.5% strand rate, which makes him vulnerable to a likely ERA correction of half a run to a full run.
On the plus side, Kershaw was fairly limited in how much work the Dodgers allowed him to do. They stuck as close as possible to the 100-pitch mark, something he exceeded in quite a few starts, but never by more than 12 pitches. The 171 IP he threw had a lot to do with his bruised shoulder, but they would have undoubtedly kept his innings low regardless. He'll have a bit more latitude in 2010, which could allow him to build those impressive strikeout rates into a total that will help your team even more. And the potential ERA regression is still relatively minor, with THTF's projections in the same 3.30-3.50 ballpark as other systems.
Other than the walk rate and the usual setbacks any young pitcher is likely to experience, there are few red flags for this rising young lefty, and little reason to underbid on him come draft day. Remember that he's not going to give you the same numbers he did in 2009, but if he's in the same neighborhood as the THTF numbers, he's going to help your team immensely. Keeper leagues are undoubtedly all over him already (I've owned him for two seasons in one of my keeper leagues) and he's got obvious added value in NL-only leagues. But nearly any owner should have no problem going the extra buck or two to put this young fireballing southpaw on his team.
Raul Ibanez
| Philadelphia | OF
2009 Final Stats
: .272/.347/.552
2010 THTF Projected Stats
: .273/.340/.477
In his first year with the Phillies, Ibanez didn't do all that bad. Sure, his batting average dropped more than 20 points, but he hit a career-high 34 home runs and had a .552 SLG, and his 110 RBIs were his second-best total ever. And, oh yeah, he did it all while playing through a sports hernia that required offseason surgery. His stint on the DL for a pulled groin was obviously much more serious than that, and Ibanez showed his character and grit by playing through it.
That hernia's the best way to explain the dropoff in production from the first half of the season to the second, when his OPS plummeted 300 points along with his HR production. What's perhaps more impressive is that his season didn't turn out worse. His 23.8 K% and (therefore) his 0.47 BB/K were both his worst since 1998, though both worsened in the second half of the season, after he got hurt. Either because of his early-season success or his late-season tenderness (Fangraphs doesn't split hit trajectories by month or half-season), he hit career highs in FB% and HR/FB rates, which certainly explains that prodigious HR total. He did this at the expense of line drives, however, posting his lowest rate ever and continuing a general downward trend in that department since 2003.
Raul is getting old, as we all are: he'll be 38 this season, and his skills have been declining. Alongside that downturn in line drive rate, he's increased how often he swings at pitches outside the zone, despite not showing a corresponding increase in contact rate on those pitches (2008's 71.5% was a clear outlier). This, added to his other trends, indicates that more declines are coming.
He's not going to hit like he did in the second half of 2009, when he could only muster a .232/.326/.448 slash line, but THTF sees him closer to that than his overall 2009 line. That could be a little pessimistic (despite his .143 Spring Training average) but some pessimism is warranted in this case. Age-related decline is to be expected, as are other injuries like the hernia, even though Ibanez has been a fairly healthy guy throughout his career—and, as we saw last year, he's perfectly willing to grit his teeth and play through it.
Ibanez was never a top-flight OF in fantasy, but he was one of those guys you could count on for a steady clip of BA, HR, and RBI. He's going to be a lot shakier going forward, but he'll still be dependable for good contributions in all those areas, especially with the high-scoring Phillies. He might even have periods like the first half of 2009, though not for an entire season. That makes a very good play in NL-only leagues, a good play in mixed leagues, and a decent investment overall.
---
Posted by
Michael Street
at
2:00am
(0)
Comments
At the considerable risk of undermining my credibility, I'll share the results from the Fantasy Pros 911 (.com) Expert Draft, the invite to which was passed along to me by Derek Carty. As I won't be continuing as a writer in this column after Opening Day, any further discussion of the season will take place at
Baseball Daily Digest
.
Nick Swisher in Spring Training (Icon/SMI)
It's not an excuse, in the sense that I knew the draft was coming a month ago, but I was only able to take about 60 minutes to prepare, and—despite that—I thought I was in great shape after taking
Neftali Feliz
, as having $53 remaining put me almost in control of the auction as people had been splurging early. Sure, I was pitching-heavy, but I was set to grab some guys I thought would hit well and be underpriced, such as
Daric Barton
,
Travis Hafner
,
Carlos Guillen
, and
Magglio Ordonez
. Instead, I made a rookie mistake and got into late-auction bidding wars on a couple players who were replaceable,
Scott Downs
and
Nick Swisher
. I was trying to handcuff my
Jason Frasor
position as best as possible, and I think Swisher will be great this year, but the inflation in the draft at that point meant that I shouldn't have been paying more than 65% for anyone.
Here is my draft, with the "Value" column coming from the convenient $ valuator at lastplayerpicked.com, using combined projections:
Having discussed the land mine I stepped on, here are some things I think I did do well:

1. Pitching is budgeted at 30% (approximately) in most drafts, due mostly to the fact that it's amazingly unpredictable. I feel like I invested in three pitchers who are among the least likely to crater: Felix, with that park and defense supporting his amazing skills; Papelbon, with more than his share of easy saves available, due to Boston getting big leads more than most teams; and Lackey, for the run support he'll receive in Boston.

2.

Aaron Hill

—

I've reviewed Hill in this column in the past

, and discussed his power/contact combination, and how he's similar to

Aramis Ramirez

in that regard. The lack of walks may hurt the Blue Jays, but I think the typical projections—which put him around 20 HR—are pessimistic.

3. Asdrubal Cabrera—Usually, I like taking a 2B/SS type early so that I have flexibility, but I already had Hill in this case, so there's no excuse. Except that he hits really well for a shortstop.

4.

Brendan Harris

—Sure, he's not very good, but he's slated to be the starting third baseman for the Twins.

5. da Aza—Don't ask. I figured that I'd need some $1 guys eventually, and didn't have a nominee queued up. But he's young, and probably has more core ability than

Juan Pierre

, and is crushing the ball in spring training, so you never know.

Anyway, it was a long draft, and it's NCAA Tourney time (except for Georgetown). Here's the league link; happy to field questions:

FantasyPros911.com Expert League Rob McQuown is a lifetime Cubs fan, longtime SABR member, and former STATS, Inc. employee. He also writes for Baseball Daily Digest and other sites and can be reached via email (

.(JavaScript must be enabled to view this email address)

; baseball email is always welcome) and followed on Twitter (robmcquown).

---
Posted by
Rob McQuown
at
4:00am
(5)
Comments
Monday, March 22, 2010
Last week I participated in the inaugural draft for the CardRunners expert league. I received an e-mail a couple months ago with an invitation and was immediately intrigued. The league is being hosted by the poker instruction website
CardRunners.com
and will include both poker pros and fantasy baseball experts. Here was the explanation from the original e-mail:
The league will consist of half of these gambler and wall street trader types, and half of established fantasy industry baseball experts like yourself. This should create an interesting confrontation between the experienced experts and the sharp newcomers used to beating various games.

This sounded like a very novel (and terrific) idea, and I think this should make for some very interesting league dynamics.
The fantasy experts participating are (in alphabetical order) Tout Wars vets Jeff Erickson, David Gonos, Peter Kreutzer, Chris Liss, and Joe Sheehan (sharing a team with Erickson). The poker pros are WSOP bracelet winner Eric Kesselman, former world class backgammon player Bill Phipps, and Brian Hastings, who holds the online record for a single night's cash game at $4.1 million, among others. Combined, this side of the league has won tens of millions of dollars playing poker and hundreds of thousands playing fantasy baseball, so they should make for very tough competition.
CardRunners Expert League: Team Carty
The league is a 10-team, 5x5 AL-only league with the traditional 23 starting spots and 5 bench spots. The one twist, as far as the auction goes, is that you can use your auction dollars to fill your bench spots.
C:
John Buck
- $5
C:
Gerald Laird
- $3
1B:
Chris Davis
- $14
2B:
Brian Roberts
- $18
3B:
Brandon Inge
- $6
SS:
Yuniesky Betancourt
- $1
CI:
Russell Branyan
- $8
MI:
Scott Sizemore
- $8
OF:
Nelson Cruz
- $24
OF:
Adam Lind
- $23
OF:
Juan Pierre
- $16
OF:
Julio Borbon
- $14
OF:
David DeJesus
- $6
DH:
David Ortiz
- $11
P:
Javier Vazquez
- $21
P:
Scott Baker
- $15
P:
Rich Harden
- $11
P:
Dallas Braden
- $3
P:
Colby Lewis
- $1
P:
Joakim Soria
- $17
P:
Frank Francisco
- $11
P:
Brandon League
- $4
P:
J.P. Howell
- $3
BN:
Travis Snider
- $7
BN:
Erik Bedard
- $5
BN:
Mike Wuertz
- $2
BN:
Matt Thornton
- $2
BN:
Mark Lowe
- $1
Team thoughts
Simply put, I really like my team. It certainly has some risk, but I'm pretty optimistic about it.
It took a while for me to start buying players (I was the last team left with all $260), but I think patience paid off. While players were going in the high $30s and low $40s (too high for a 10-team league, in my opinion), I waited and got bargains on a couple of my highest ranked OFs in Cruz and Borbon. When I nominated Borbon at $14, I was expecting at least some bidding. I was plenty happy to hear crickets, though, for a leadoff man who could steal 40 bases. Lind and Roberts came at pretty even value, but I was thrilled to get Ortiz so low.
Davis and Branyan should give me monster power, and Pierre should help on the speed side. I like the upside in Snider and Sizemore, although SS is certainly a weakness. My batting average doesn't look so hot, but I hope to be competitive in the other four categories.
As for pitching, I should be in terrific shape in terms of saves. I got one top-notch and one good closer for solid prices and lots of top setup men with potential to step into the 9th inning. Howell has the injury-prone
Rafael Soriano
, Lowe and League have a shaky
David Aardsma
, and Thornton has trade candidate
Bobby Jenks
. As far as starting pitching, I got an ace in Javy and a solid Scott Baker followed by some good upside guys.
Catcher strategy
Some of you may have noticed that between LABR NL and this CardRunners league, I bought four $3-$5 catchers (
Gregg Zaun
and
Nick Hundley
being the other two).
I like this strategy a lot because most of the top tier catchers, in AL and NL-only leagues, tend to go for at or above their true value (e.x.
Joe Mauer
for $40 and
Victor Martinez
for $35 in this league). As such, you can decide to buy them and receive even value, but because the position is inherently more risky than other offensive positions, I've felt that it's better for your even value purchases to come at other positions. In LABR, this meant guys like
Prince Fielder
,
Adam LaRoche
, and
Ian Stewart
. In CardRunners, it meant guys like
Adam Lind
,
Brian Roberts
, and (to some extent)
Nelson Cruz
.
While I haven't run the numbers yet, I believe that these kinds of guys are less likely to get injured than the top catchers are. Of course, because most AL and NL-only leagues start more catchers than their MLB counterparts do (i.e. 20 in CardRunners AL, 14 in MLB AL), some teams will end up with $1 catchers like
Brayan Pena
or
George Kottaras
(and sometimes you end up having to pony up more than $1 for these guys). That's obviously not very appealing either.
My strategy dictated taking whatever catcher bargains came in the middle rounds in that $2-$5 range. You'll end up with two catchers who will start 100 games and avoid the scrambling that takes place at the end of the draft. For an extra couple bucks, you should receive a lot of marginal value (maybe as much as $10) over the catchers who will only tally 150 or 200 ABs that you'll be stuck with if you wait until you can get a pair of $1 catchers.
Concluding thoughts
Feel free to let me know what you think about my team in the comments. And if you're into poker, definitely check out
CardRunners.com
.
---
Posted by
Derek Carty
at
3:11am
(9)
Comments
Wednesday, March 24, 2010
There is no one way to prepare for a fantasy baseball draft. Some won't prepare very much at all, opting instead to trust the preset order the players appear in their draft room window. Others will ignore numbers and rank by reputation or what they remember reading about certain players. Others will buy a magazine and go purely by it's rankings and in a similar vein others will take what a projection system spews out as gospel and create rankings off those numbers unaltered.
Personally, I like to use a projection system as a baseline for what I can expect a player to contribute, but I often find myself manually adjusting this batter's home run total a little up or that pitcher's ERA slightly down. This season what I'm going to do is see how helpful, harmful, or neutral my manual adjustments are by making 10 claims about different players' stats now and seeing how often I was right at the end of the season.
The projection system I will challenge is CHONE, simply because it is freely available and is well-respected. If one of the players I make a prediction on misses serious time due to an injury, the prediction will be nullified.
All that's left is to make the picks, which I will do over/under style.
The claims
One down. 23 more to go. (Icon/SMI)
1)
Adam Lind
will hit over his projected 24 home runs.
2)
Brett Anderson
will have an ERA below his projected 4.04 mark.
3)
Michael Bourn
will steal more than his projected 37 steals.
4)
Brett Gardner
will have a higher batting average than his projected 0.266 average.
5)
Chone Figgins
will steal less than his projected 33 steals.
6)
Daric Barton
will hit above his projected 0.261 mark (if he holds off
Chris Carter
long enough)
7)
Ben Zobrist
will have a higher average than his projected 0.268 one.
8)
Chris Carpenter
's ERA will be above his projected 3.10 mark.
9)
Curtis Granderson
will hit more than his 26 projected home runs.
10)
Jimmy Rollins
will hit above his projected 0.268 average.
And those are some of the changes I would make to what CHONE predicts for certain players. Obviously then, based on these claims I move certain players up or down a little in my rankings. By checking back at the end of the season on how my predictions fared, I can get a glimpse into whether I have positively or negatively altered rankings based strictly off of CHONE projections. Also feel free to make any of your own predictions in the comments and we'll check back at the end of the season on those as well.
As a final note,
here is a link
to the article on the Yahoo fantasy sports homepage today offering mine and the other members of the Friends and Family Leagues' thoughts on the draft, as a well a a working link to the full draft results.
---
Posted by
Paul Singman
at
5:56am
(4)
Comments
This morning while in search of inspiration for my column, I began scanning MDC's ADP list. As I was looking up and down, I stumbled across an interesting segment of the list. Bunched together in the slots from 177–184 lie seven players who are either not long removed from being studs or trendy breakout candidates, along with a solid, reliable, underrated cog, and one of the most popular sleepers among readers of this column. Who are these masked men?
177.
Adrian Beltre
178.
Scott Kazmir
179.
David Price
180.
Rickie Weeks
181.
Ted Lilly
182.
Vernon Wells
184.
Corey Hart
I found all of these players interesting, and I think it's fair to say that some of these players, if acquired for their listed price, will turn out to be great picks. Let's turn to each briefly.
Adrian Beltre
: Beltre was once perceived by some to be a stud. Some owners reaped the unexpected gift of his 2004 season. Getting that season out of Beltre was probably roughly akin to finding a suitcase full of hundred dollar bills while walking the dog. The following year, Beltre flopped. It was like Raekwon the Chef following
Only Built 4 Cuban Linx
with
Immobilarity
, except in reverse because with Beltre we all felt in our heart of hearts that the woefully inferior version was his true self.
(Alright, look, I've gotten to know you guys for a while and you're just going to have to accept that I'm going to make hip-hop references. Fantasy columnists make lame references to indie rock, or even classic rock, all the time, and I presume they don't feel self-conscious about it or feel the need to address their readership about it. The fact that I feel this way about my preferred musical genre is actually grounds for a sociological discussion that's a lot more interesting than fantasy baseball is, but that's not why you guys come here, so I'm going to walk away.)
Anyway, lots of people like Beltre this year, and I'm one of them. I think he's a lock to exceed his ADP because he fits the prototype who gets dramatically helped by Fenway. He's a right-handed pull hitter with above average, but not elite level, power. He'll also be hitting in a vastly improved line-up. Does anybody think that 28 HR, 95 RBIs, and 10 SB are not totally outside the realm of possibility? By the way, here are Beltre's 2009 batted balls at Safeco imposed on Fenway Park.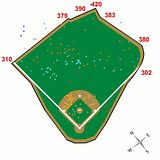 Scott Kazmir
: Kazmir is among the game's most enigmatic phenoms of the past half-decade. He has absolutely dazzling stuff and a fairly modest ability to control it. Kazmir has an uncanny ability to miss bats, strike zones, and starts. He is a classic high-risk/high-reward player. Getting out of the AL East should help, but his health and consistency are always concerns. Still, I like rolling the dice on players like Kazmir. And, according to MDC, he's slipped as far as 215. If I'm feeling good about the front end of my staff, I'm willing to take a shot on a starting pitcher who has averaged more than a strikeout per inning for his career.
David Price
: Kazmir's ex-rotation mate, David Price follows. After Price's impressive introduction to the world at the end of 2008, many viewed 2009 as a disappointment. But if we ignore the hype and expectations and look at the situation at face value, what we saw was a younger pitcher who made 23 starts to a 102 ERA+, and who dramatically improved his control and moderately upped his K-rate as the season progressed and he began to gain experience. Last year didn't do anything to make me think Price can't become the pitcher that many though he could after 2007. Really, what changed was the
perceived
certainty that such development would happen, and the confidence that it would occur immediately. There's definitely upside worth considering here.
Rickie Weeks
: Weeks has enticed fantasy players for a while now. He has clear 20-20 potential, and if he could stay healthy for a whole season and post a decent batting average, he could approximate a down year from
Brandon Phillips
. It's rather noteworthy to think that if Weeks performs on the bright side of what can be reasonably expected, and Phillips performs on the bleak side of his, you could have two players of approximately the same production who are currently separated by 140 units of ADP.
Weeks looked like he may have been poised for a breakout last season before hurting his wrist and missing the all but the first month and a half of the season. However, it also seems increasingly likely that he's just not durable enough to be trusted to play anything approaching a full season. Weeks has fallen past pick 200 in many drafts. The bottom line is that at this price, you almost surely win if Weeks stays reasonably healthy and doesn't hit .230. That's not a bad proposition, and although he's not my favorite player among this group, if you could really use a 2B with 20-HR potential late in your draft, Weeks may be your most legitimate option.
Ted Lilly
: Honestly, I love Ted Lilly. He's on target for a mid-April return, so missing time shouldn't be a major concern. Lilly doesn't necessarily have the upside of the other pitchers discussed here … or so it seems to be presumed. If Lilly hadn't gotten hurt last year, and had a bit better luck in terms of run support, he would have finished at a top-50 player. Frankly, over the past three seasons, there really hasn't been all that much separating Lilly and
Josh Beckett
. The fact that there are more than 100 units of ADP between them is much more a testament to the power of perception than to a stark qualitative difference in production. Perhaps the two biggest points in favor of Beckett are his age and the overall team behind him. I'd take Lilly before either Price or Kazmir. Quietly, his upside is legit, and he's done it before, fairly consistently.
Vernon Wells
: I don't like Vernon Wells, I've been burnt by him, and reached the conclusion that he can't be trusted. But, like all players I can overcome my intuitive aversion to Wells given the right price point. Wells has slipped as far as 220th, according to MDC. As your fourth of fifth outfielder, or a flier bench guy, he's certainly worth a look. Though, if I'm looking strictly for production and not concerned with position, I'd be tempted to wait even longer and put my eggs in somebody like
Paul Konerko
's (ADP 203) basket; they're both potential batting average risks, but Konerko's power is more reliable.
Corey Hart
: Coming in to 2008, Hart was pre-ranked somewhere in the fifties, if I recall correctly. He didn't step up his power though, and regressed in batting average and plate discipline. Still, Hart went 20/20 with 167 combined runs and RBIs, which is not so bad for a player available at fourth or fifth outfielder prices. Over the past two seasons, Nate McLlouth's resume isn't all that different, yet he costs twice what Hart does. Anybody who is interested in McLlouth at 90 would have to love Hart at 160–200, no?
It's hard to place these players in order of my preference, because at this point in the draft you are often filling either positional or categorical needs, so the player best among this group is the player that best complements your team. That said, I'd say that crudely, my favorite players among this group are Beltre, Lilly and Hart.
---
Posted by
Derek Ambrosino
at
6:01am
(6)
Comments
Thursday, March 25, 2010
Below are the game's top 16 middle infield prospects, complete with average- and prime-year projections if sufficient time has been spent at Double-A or beyond.
Scott Sizemore
/ 2B / Detroit
2010 thoughts:
Detroit shouldn't have to worry about second base for a while. Sizemore has it locked down.
Average-year projection:
.274 / .351 / 16 HR / 41 2B / 4 3B / 74 RBI / 85 R / 69 BB / 116 SO / 11 SB / 3 CS
Prime-year projection:
.285 / .370 / 22 HR / 41 2B / 5 3B / 85 RBI / 94 R / 76 BB / 110 SO / 15 SB / 4 CS
Alcides Escobar
/ SS / Milwaukee
2010 thoughts:
J.J. Hardy
is out of the way, and Escobar is here to stay.
Average-year projection:
.284 / .336 / 6 HR / 27 2B / 6 3B / 59 RBI / 89 R / 42 BB / 99 SO / 28 SB / 7 CS
Prime-year projection:
.296 / .353 / 8 HR / 31 2B / 8 3B / 66 RBI / 98 R / 49 BB / 92 SO / 35 SB / 8 CS
Brett Lawrie
/ 2B/3B/OF / Milwaukee
2010 thoughts:
Lawrie should split the year between Double-A Huntsville and Triple-A Nashville.
Jiovanni Mier
/ SS / Houston
2010 thoughts:
Expect Mier to remain in Single-A Lexington for the year, but an eventual trip to Advanced-A Lancaster would not be a shock.
Carlos Triunfel
/ 3B/2B/SS / Seattle
2010 thoughts:
Triunfel is another youngster who should split 2010 between Double-A and Triple-A.
Starlin Castro
/ SS / Chicago Cubs
2010 thoughts:
I'm counting on a full year at Double-A Tennessee from Castro, although I could envision Chicago pushing him, possibly all the way to the majors.
Grant Green
/ SS / Oakland
2010 thoughts:
Green should move fast. Expect him to start at Advanced-A Stockton and finish with Triple-A Sacramento.
Dustin Ackley / 2B/OF/1B / Seattle
2010 thoughts:
Ackley could see three minor league levels, but with the position change I'm counting on just two, culminating in an important Double-A test.
Eric Young
/ 2B/OF / Colorado
2010 thoughts:
Young's outlook hinges on Clint Barmes. I expect enough success from Barmes to keep Young at bay, but even then Young should at least get some major league utility time later in the year.
Average-year projection:
.278 / .348 / 7 HR / 29 2B / 6 3B / 58 RBI / 90 R / 60 BB / 90 SO / 30 SB / 8 CS
Prime-year projection:
.288 / .370 / 9 HR / 32 2B / 8 3B / 65 RBI / 100 R / 68 BB / 84 SO / 36 SB / 9 CS
Jemile Weeks
/ 2B / Oakland
2010 thoughts:
Weeks should spend most of the year at Double-A Midland, but, depending on Adrian Cardenas, he could see Triple-A time by July.
Danny Espinosa
/ SS / Washington
2010 thoughts:
There is nothing wrong with Espinosa taking the year to adjust to the challenge of Double-A pitching.
Tim Beckham
/ SS / Tampa Bay
2010 thoughts:
Continue to take it slow, Tampa. Beckham needs maturation time. I anticipate that he will spend the entire year at Advanced-A Charlotte.
Reid Brignac
/ SS / Tampa Bay
2010 thoughts:
Tampa's middle infield is tight, leaving me to believe that Brignac will once again spend most of the year at Triple-A Durham, experiencing just a taste of the majors here or there.
Average-year projection:
.270 / .329 / 10 HR / 31 2B / 3 3B / 68 RBI / 72 R / 49 BB / 100 SO / 9 SB / 3 CS
Prime-year projection:
.281 / .345 / 13 HR / 32 2B / 4 3B / 74 RBI / 79 R / 55 BB / 92 SO / 12 SB / 4 CS
Wilmer Flores
/ 3B/SS / NY Mets
2010 thoughts:
Advanced-A St. Lucie should be Flores' home throughout 2010, as one level per year should be New York's motto.
Dee Gordon
/ SS / LA Dodgers
2010 thoughts:
Gordon should start the year at Advanced-A Inland Empire, and with success he could hit Double-A Chattanooga by midseason.
Miguel Sano / SS/3B / Minnesota
2010 thoughts:
2010 will be a year of cultural adjustment for Sano, and all that I am counting on is some minor success at one of Minnesota's rookie-level affiliates.
---
Posted by
Matt Hagen
at
6:40am
(6)
Comments
Friday, March 26, 2010
Andre Ethier
| Los Angeles | OF
2009 Final Stats
: .272/.361/.508
2010 THTF Projected Stats
: .284/.360/.494
Except for his miserable May, Ethier built on his .335/.409/.583 second half of 2008 to show that he's finally arrived. For the first time in his career, he broke the 30-HR (the first Dodger to do so since
Adrian Beltre
's 48 longballs in 2004) and 100-RBI barriers, playing in all but two games for the Dodgers. The mysterious May slump likely came from his 26 H% and the split toenail that limited him for the last week of the month. But he came back with a vengeance in June, putting together a nine-game hitting streak that included four homers in three games, bringing his OPS up 100 points.
That kind of clumping was typical of Ethier, who hit more than a third of his 31 HR in six multi-homer games. Shockingly, all of those multi-dinger games came at home, where he hit 22 HRs. That's surprising for Dodger Stadium, one of the stingiest HR parks in the league (only Busch surrendered fewer HR/G in 2009), but a good sign for Ethier owners going forward—he has a .915 OPS at home.
One stat that wasn't shocking in 2009 was Ethier's platoon splits. His career OPS is 203 points higher against RHP than LHP, and that gap widened to 331 points in 2009. While that makes his overall line that much more impressive, it's a worrying trend, following four straight years of declining OPS against southpaws. It's too soon to call for a platoon, but Ethier could be headed that way if he keeps this up.
Another trend to note is that Ethier started hitting more fly balls last year, with a career-high 41.5% in that department. His HR rate seems to be settling into the 14-15% range, so he's a good shot to keep his power up if this continues, though more fly balls would also depress his BA. Since this came after three straight seasons of declining FB%, it's a good question as to whether this is a permanent shift or not.
THTF predicts a reversal in this trend, boosting his BA at the expense of his SLG, and sees him falling back to HR levels in the mid-20s (he's predicted for 23). That puts them right in line with other projection systems, which only differ by giving him a slightly higher SLG. Consistent contact rates in the low 80s mean that he's a solid BA bet, especially with four straight seasons of rising walk rates. Those platoon splits are worrisome, but Ethier's still going to deliver very good value for you. He's not a top-flight OF in mixed leagues but gets close in NL-only leagues, and should be someone you can safely bet on for another OPS in the high 800s, even throwing in a few SBs to boot.
Rafael Soriano
| Tampa Bay | RP
2009 Final Stats
: 12.1 K/9, 3.8 K/BB, 2.97 ERA
2010 THTF Projected Stats
: 9.8 K/9, 3.1 K/BB, 3.51 ERA
Soriano is the ultimate risk-reward guy at the back end of a bullpen. When he's healthy, he throws a tidy fastball-slider combo that helps him rack up the Ks. But when he's not healthy, the loss can be catastrophic—he's missed nearly all of two different seasons in the past five years, and 2009 was only the second time he's broken the 70-IP mark, setting a career high with 75.2 IP.
Last year, Atlanta had
Mike Gonzalez
as insurance—they were nominally co-closers to start the season, but the sharing project quickly fell away as Soriano asserted himself, and Gonzalez only recorded one save after July 1. With Tampa Bay, there's
J.P. Howell
and
Grant Balfour
to step in if Soriano goes down, so they're well-protected, and Soriano's fantasy owners should be, too.
If he remains healthy, however, Soriano will deliver you some excellent numbers. Since his rookie year, he's only once failed to register at least a strikeout per inning when pitching more than five innings, and that was his 8.8 K/9 in 2007, which is darn close to that magical mark. Soriano's BB/9 have been equally good in his career, typically around 3 BB/9 (2008's injury-shortened 14-IP 5.8 BB/9 is a clear outlier). He's relied less and less on off-speed stuff in recent years, but that's typical for an endgame power pitcher. And while his fastball has improved a bit in effectiveness, slipping from 1.06 to 1.42 wFB/C since 2006, his slider has declined a bit, going from 1.82 to 1.39 wSL/C in that same period. Those aren't slides to worry about unless they continue, and show that he's still got the same stuff as before his 2008 elbow problems.
Moving back to the AL shouldn't hurt Soriano, since that's where he began his career, and he moves to a team with one of the best defenses in baseball. Tampa Bay ranked second in UZR/150 in 2009, while placing fourth in Defensive Efficiency and third in Total Fielding Runs Above Average. Soriano's more of a flyball pitcher, averaging 0.62 GB/FB in his career, but having guys like
Carl Crawford
and
B.J. Upton
chasing down those flies will make him even better.
Don't take him without an insurance policy, and don't overspend for those saves, but Soriano is a very good gamble if you're the guy who likes good payoffs, as he should help you in multiple categories. His health history will scare off other owners, depressing his value, but he could make a great second or third closer for you, especially if you can get Balfour and a healthy J.P. Howell as a handcuff.
Brandon Phillips
| Cincinnati | 2B
2009 Final Stats
: .276/.329/.447
2010 THTF Projected Stats
: .264/.313/.424
Even a bum wrist didn't keep Brandon Phillips down in 2009, as he put up a year almost identical to 2008, despite the fact that he'd been dropped into the cleanup spot. Phillips initially said the wrist had a hairline fracture, frightening some fantasy owners into dropping him (like an owner in one of my leagues), but the Reds said that it was just a deep bone bruise. Whatever it was, it happened when he was hit by a pitch on Aug. 15, and Phillips hit .301/.341/.438 from that point until the end of the season, so it couldn't have been much. That line could have had more to do with luck than a healthy wrist, as he enjoyed a 36% hit rate over that span, as compared to the 30% he enjoyed the rest of the season.
Overall, however, Phillips didn't enjoy too much luck, since his HR/FB rate dipped a few points from 2008. That might seem like he could pick up some SLG in 2009, but his FB rates have been slowly slipping over the past three years, so that could cancel out any return to statistical HR/FB norms. Two other complementary trends show why his THTF projection sees a correction coming. His walk rates have generally improved a bit since 2006, rising from 6.0% to 6.8%, while his strikeout rate plunged from a three-year average around 16% to 12.8% in 2009. A sudden leap forward like this is unusual in a player with his experience, and he could give those gains back in 2010. Phillips is too young to fall off the table suddenly in any direction, however, and only THTF doesn't see him joining the 20-20 club again (THTF projects 18 HRs, though his 21 SBs are in line with other systems).
He's an odd placement in the cleanup spot, with his modest SLG, but that's where
Dusty Baker
will probably place him in 2010, too. He still swiped more than 20 bags despite that unfavorable positioning, so there's no reason to think he can't do it again. If Dusty does see the light and puts
Jay Bruce
, for example, who has more raw power, there instead, that could shift Phillips' HR/SB mix even further in favor of speed.
Either way, however, Phillips will continue to provide a very good power-speed blend that's valuable for a MIF. His walk rates and modest contact skills will keep him from being a great BA boost, but he shouldn't hurt you there, either. The persistence he showed in playing through his wrist problems last season show how gritty he is, and so long as he remains healthy, he'll remain a top-notch 2B option in mixed or NL-only leagues.
Ubaldo Jimenez
| Colorado | SP
2009 Final Stats
: 8.2 K/9, 2.3 K/BB, 3.47 ERA
2010 THTF Projected Stats
: 8.2 K/9, 2.0 K/BB, 3.64 ERA
You've got to like a young pitcher with a 95+ mph fastball, even if Coors Field is his home. You like him even more, however, when that guy pitches better there, as Jimenez did in 2009—his ERA and WHIP were both better at home than away, even if his control was slightly poorer there (2.2 K/BB vs. 2.5 K/BB away from Coors). His BABIP was also a touch worse at home, but when it's .285 vs. .288 it didn't make much of a difference, and shouldn't change much going forward.
Overall, Jimenez solidified his skills in quite a few areas in 2009, with results that reflected that growth, and not mere luck. For starters, his 73% strand rate was solid, but his peripheral ratios showed improvement, too. His strikeout rate improved from 2008's 7.8, but his biggest step forward came in his control, as he went from a 4.7 to 3.5 BB/9. That's the most important area of improvement for a young power pitcher, and Jimenez barely got into acceptable walk rate range with that 2009 performance. As a power pitcher in Colorado, his flyball rate might be an area of concern, but Jimenez has shown growth there, too, over the last three seasons, dropping from 37% to 28% since 2007. Combine that with his slightly below-average HR rates in the past two years, and you'll see that even a correction from 2009's 7.8% HR/FB back to league norms isn't much to worry about.
Jimenez has also broadened his repertoire, using his slider more, and using it more effectively. Since coming to the Rockies, he's increased his usage of it from 10.2% to 17.8%, while it's gone from 0.99 to 2.39 wSL/C. His heater, too, has gotten better, from a -4.7 to 11.4 wFB/C in the past three seasons. He was touted for having four pitches, and his changeup remains strong, but his curve still needs work, as it's been inconsistent. Jimenez has compensated by throwing the curve a bit less, possibly because Colorado's thin air doesn't allow it to break like it should.
THTF sees some slippage in Jimenez's production in 2010, largely due to a regression in his walk rate to 4.2 BB/9. Even if that happens, those numbers remain solid, and unless he suddenly reverses those groundball gains, he's a very strong SP option for 2010. He's still a young power pitcher, and bumps are possible, but it's hard to match his strikeout potential. Keeper leagues have surely snapped him up already, but he's a very good SP option for redraft leagues of all kinds.
Michael Bourn
| Houston | OF
2009 Final Stats
: .285/.354/.384
2010 THTF Projected Stats
: .254/.319/.338
Bourn is one of those one-dimensional fantasy anomalies, where owners tolerate his punchless offense because he can seal up the SB category for you singlehandedly. In leagues that don't count steals, on the other hand, he can bring some value from the runs he scores, but he's a marginal talent otherwise. In 2009, though, he also brought BA and enough SLG to make him tolerable in non-SB leagues, and those 97 times he crossed home plate were nothing to sniff at, either.
Since he's a young player, it's difficult to know if Bourn is establishing tendencies or breaking them with his 2009 performance. He had a 19% strikeout rate in the minors, which ballooned to 23% over the past two seasons. His 13% walk rate in the minors sunk to 9% in 2009, though that was better than the 7% he put up in 2008. He pounced on fastballs in 2009, devouring them at a 1.35 wFB/C rate, but couldn't figure out sliders (-2.32 wSL/C) and went from awful against changeups (-4.03 wCH/C) in 2008 to merely bad (-1.29) in 2009. And his hit rate jumped from 30% to 37% between 2008 and 2009.
Which way is he going? Hard to know for sure, but THTF sees him giving some of those gains back, not really surprising with a young player like this. It's lower than other projection systems, but the best of those still peg him as declining from his 2009 season. Unless they improve, Bourn's strikeout rates are still too high for a stable batting average, while his walk rates are barely in good territory. But if pitchers figure out his weakness to offspeed and breaking stuff, his ratios may not matter. The good news for fantasy owners is that his speed will remain consistent—as long as he gets on base. His groundball hitting style (57.8 GB% in 2009) and footspeed should help him reach base, even if his other trends push his hitting downward. There's no stopping the steals, even if THTF sees him getting 50 swipes, and nobody sees him repeating a 60+ season.
A final concern is his health in spring training, as he's missed more than a week with an oblique strain, and should return today. Both Bourn and the Astros insist that he's fine, but oblique injuries have a way of lingering, and could sap his power and BA further. This isn't enough to drop him off of draft charts, but it could slide him a few spots, and certainly bears watching.
Regardless, Bourn remains someone who will be drafted high in standard roto leagues and ignored in others, and if you draft him for your team, he's going to be a two-dimensional contributor, neither helping nor hurting your BA while not contributing at all, or even hurting you, in power. If he could bring more than that, he'd be a much higher pick. As it is, however, you shouldn't be seduced by those tasty SBs enough to overpay for or overdraft him. I'm never a fan of filling a spot with someone who can just contribute in one category, whether it's a closer with awful peripherals or a hitter who only delivers you steals. Unless you can get Bourn for a reasonable price, look elsewhere for guys to fill out your SB category.